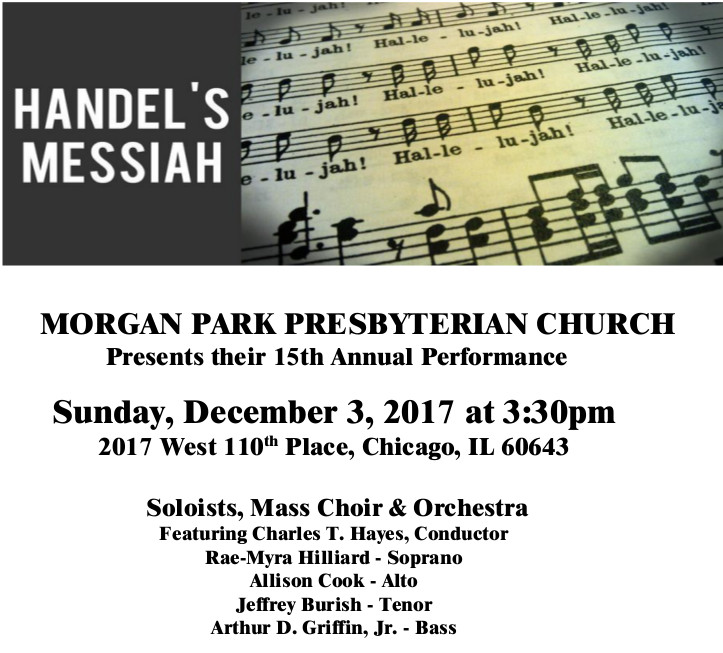 Watch Live!
Can't make it to the concert? Watch from where you are! See the performance live right now and make a donation in honor of this special event by clicking here.

Handel's Messiah
Begin your holiday season with this special performance of G. F. Handel's "Messiah" on Sunday, December 3rd at 3:30 pm.
Maestro Charles T. Hayes will conduct this epic performance, joined by Rae-Myra Hillard as Soprano, Allison Selby Cook as Alto, Jeffery Burish as Tenor, and Arthur D. Griffin, Jr. as Bass. An orchestra coordinated by David Howard, joined by Yvonne Lindsey as pianist, and D. Josiah Montgomery as organist, will accompany this musical masterpiece. Our choir will be joined by the Classic Act Ensemble and the Chatham Choral Ensemble to lead the chorus in this epic rendition.
Tickets are available for $20 for adults and $10 for students. Join this special South Side tradition at Morgan Park Presbyterian Church!
When: Sunday, December 3rd at 3:30pm
Where: 2017 W 11oth Place, Chicago, IL 60643
Tickets at the door, online, or call: 773-779-3355
Purchase Tickets Online
To purchase tickets online using a credit/debit card or your paypal account, please select "Adult Ticket" or "Student Ticket" and then click on the "Buy Now" button to see the complete menu.  After clicking "Buy Now", you will be able to select the number of tickets you wish to purchase.
Bring your emailed receipt as proof of purchase to receive your ticket at the door.
We use Paypal to securely process your credit card payments online.
Be Part of the Performance!
There are many ways to be part of this special musical tradition!
You can put an advertisement for your business or organization in the program.
You can be a singer in the choir.
You can help behind the scenes.
Please contact us if you are interested in any of these special ways to be part of Morgan Park Presbyterian's performance of Handel's Messiah.