Christmas Jazz Concert

Christmas Jazz Concert with the Lowdown Brass Band!
Morgan Park Presbyterian Church will be hosting a special Christmas Jazz Concert for the community! Fresh off their appearance at The 2017 Chicago Jazz Festival, the nationally recognized LowDown Brass Band (LDB) will perform the music of the season. LDB deftly synthesizes the gritty sounds of Chicago with the high energy second-line street beat of the Crescent City. LDB brandishes a powerful brass frontline of trumpets, trombones, saxophones, with a funky backline of drums and sousaphone. Combining the stellar vocal harmonies, adventurous improvisation, movement, and grooves, LDB creates an infectious and diverse sound that has something for every listener.
One of the marquee moments for Lowdown Brass was recording the Christmas Album. Very much in the Street-Beat-2nd line style of New Orleans, Lowdown creates stellar original arrangements of Christmas classics like Santa Claus Is Coming to town, Silent Night, We Three Kings of Orient Are, Jingle Bells, and O Come All Ye Faithful. They also include a Duke Ellington arrangement of Tchaikovsky's Overture from The Nutcracker as well as a great original song "Chicago's Where I Wanna Be"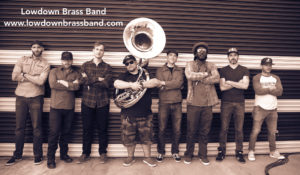 Sure to delight young and old alike, catch Lowdown Brass Band at Morgan Park Presbyterian Church!  The event is free for all ages in the community and will feature carol singing accompanied by Lowdown Brass.
Location: 2017 West 110th Place Chicago, IL 60643
Time: Friday December 22, 2017 at 7PM.
Cost: Freewill offering
A freewill offering will be taken during the performance.  You are also able to donate to this special event with a credit or debit card through our online donations page. Click "donate" below.