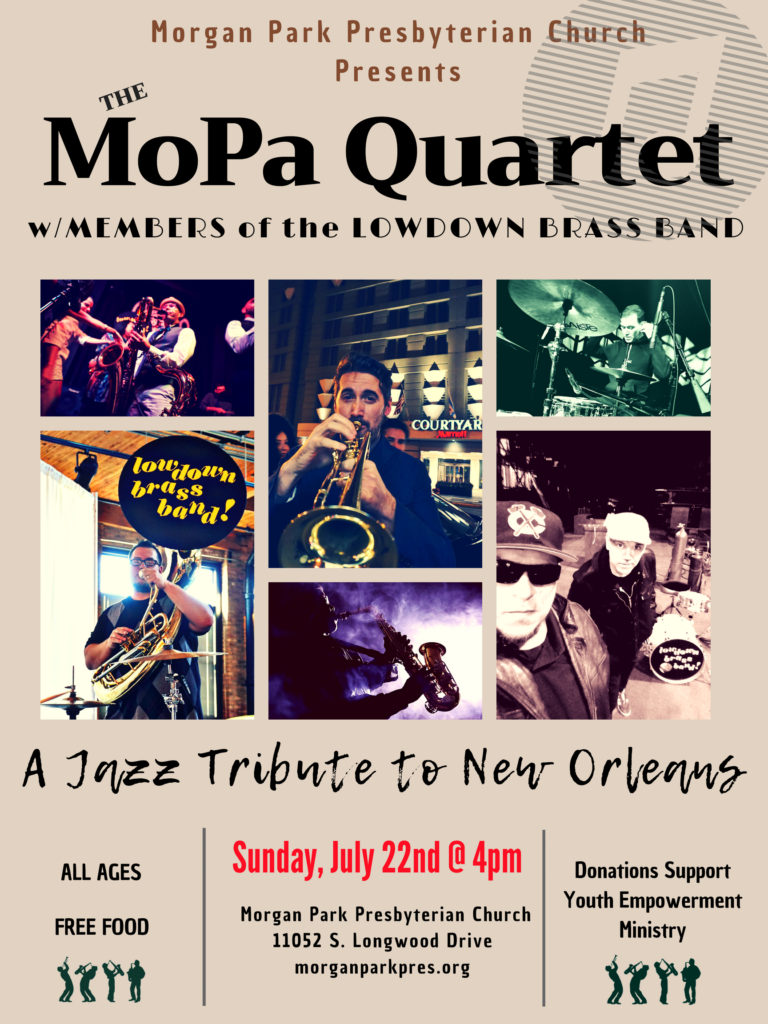 Live Music
The 3rd Annual Jazz-n-Q summer concert series promises to be an amazing event. Lance Loiselle is a multi-talented musician who is not only the director of music, pianist, and organist for Morgan Park Presbyterian, but he is also the sousaphone player, a composer, and producer for Chicago's own Lowdown Brass Band.
LowDown Brass Band (LDB) deftly synthesizes the gritty sounds of Chicago with the high energy second-line street beat of the Crescent City. LDB brandishes a powerful brass frontline of trumpets, trombones, saxophones, with a funky backline of drums and sousaphone. Jazz-n-Q will feature the MoPa Quartet with Shane Jonas (trumpet/vocal/percussion), Chris Neal (tenor sax/ vocals / percussion), and John Barbush (drums/percussion) - all from the LDB - to perform a tribute to New Orleans music as well as some standards, Lowdown Brass Band original music, as well as a few hymns in the NoLa Style.
Free Food
Morgan Park Presbyterian will be cooking up a delicious summer BBQ! Throwing burgers and franks on the grill and preparing some of our favorite summer dishes to go along with this summer picnic.
Support
We will be taking a free will donation during the concert to support our Youth Empowerment Ministries - Teen Cooking Class, Garden Ministry and Vacation Bible School.  Please contact the church to get involved in any of these special programs!
Details
Sunday, July 22nd
4:00pm-6:00pm
In the South Courtyard of Morgan Park Presbyterian Church
Bring a chair or a blanket to join the picnic! About half the audience space is shaded by trees, so come early or bring your own sun protection.